CLADDING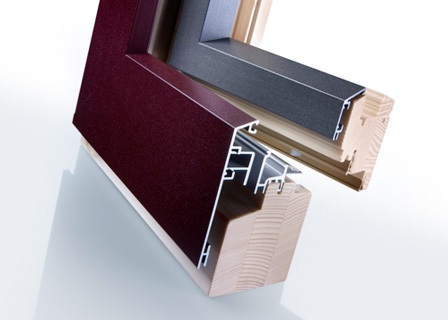 HH Windows & Doors has the perfect solution for the exterior cladding of wood windows and doors, using the CORA exterior aluminum cladding system developed and manufactured by Gutmann in Germany.
The GUTMANN CORA system is a high-performance, versatile aluminum system for the long-lasting protection of windows. The system allows wood windows to be easily and quickly equipped with optimal weather protection in appealing designs. Windows will last a lifetime with these high quality and low maintenance aluminum profiles. All cladding profiles are made from heavy duty aluminum extrusions and incorporate back ventilation between cladding and exterior wood surfaces. This prevents any moisture from getting trapped behind the cladding and allows the wood to breathe. The cladding extrusions are attached to the exterior surface of the window or door with a unique clip-on system allowing the aluminum frame to expand without constraints during temperature fluctuations.
Gutmann Cladding offers a wide range of sizes and finishes and offers great design flexibility to the architect, builder and window manufacturer. Gutmann Cladding comes in an extensive range of RALcolors as well as anodized colors (see below). We offer this system for our entire window product range as well as for our exterior doors and lift-slide doors.
AVAILABLE COLORS